Experience the culinary traditions of authentic Mexican food in a beautiful and comfortable environment. At Mesa Coyoacan, we use organic ingredients and grass fed beef, following the recipes exactly as our grandmothers used to. Rustic, long communal tables create an ideal setting for a family meal where you can sample our menu.
Cochinito Chiapaneco
Slow roasted pork ribs marinated in Mexican chiles and spices. Served with, black beans, rice, homemade tortillas and lettuce with pickled onions and jalapeños
Mixiotes de Carnero
Spiced lamb with chile Ancho, chile Guajillo and avocado leaves steamed in a banana leaf. Served with pickled habanero red onions, cactus salad, black beans topped with queso fresco and tortillas. Not to be missed!
Chiles en Nogada
Roasted poblano pepper stuffed with shredded pork, organic chicken, peaches, pears, apples and almonds. Covered in a walnut sauce and topped with pomegranate seeds. Our "Signature Dish."
Pollo con Mole Poblano
Roasted organic chicken and plantains covered in "Chef Ivan's traditional Mole Poblano" and sesame seeds. Served with Mexican rice and handmade corn tortillas. (Mole contains peanuts).
Nopal Asado
Cucumber Margarita
TACOS DE LENGUA
Ceviche de Pulpo
Tacos Al Pastor
AMBIENCE
VIRGEN DE GUADALUPE SHRINE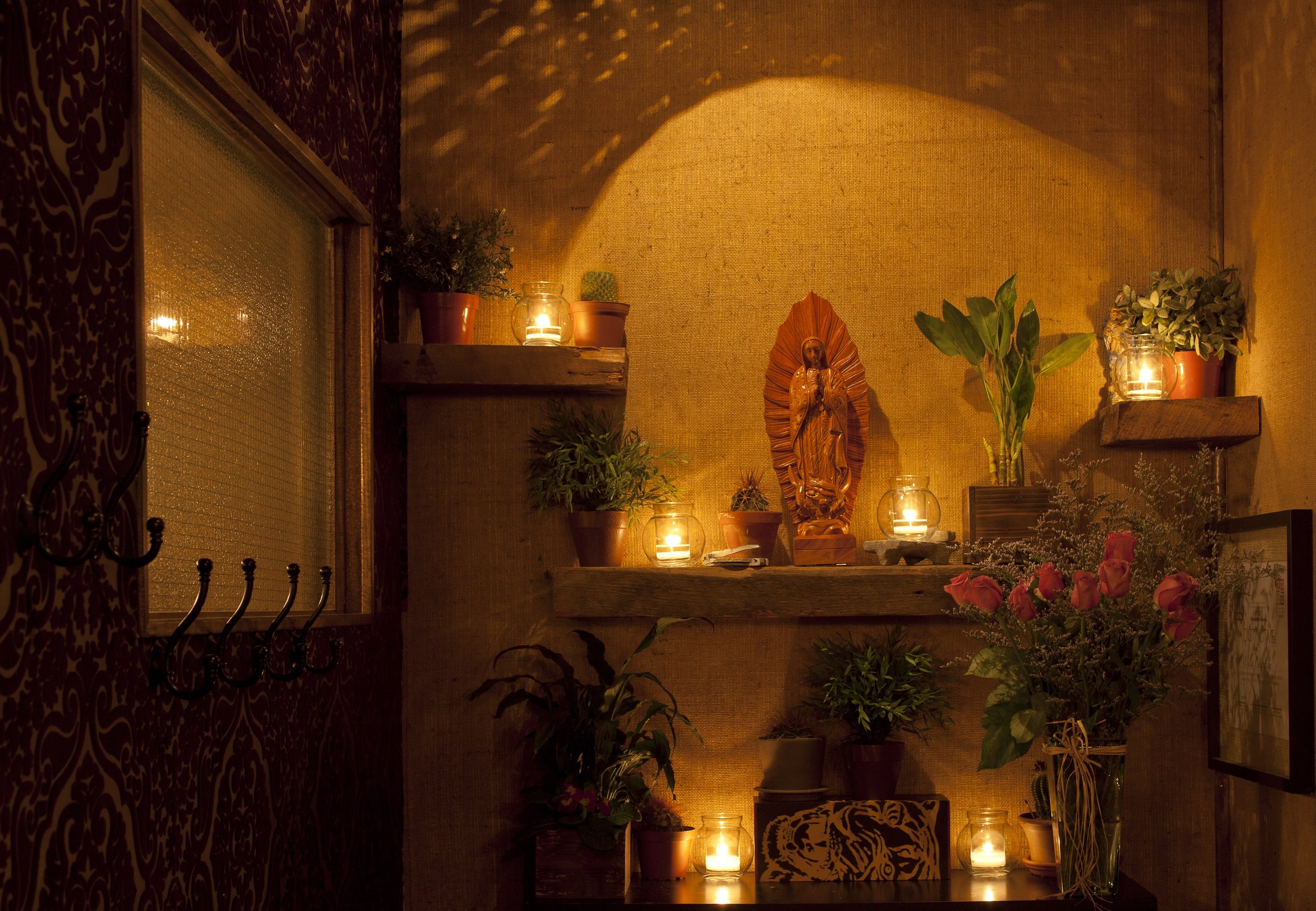 HABANERO GRAPREFRUIT MARGARITA
Mixiotes de Carnero
Chiles en Nogada
Strawberry Margarita
CELEBRATION
Camarones al Ajilo
Pollo con Mole Poblano
PLATANOS FLAMEADOS AL TEQUILA
BROOKLYN'S BEST MARGARTITAS
Location
372 Graham Avenue
Brooklyn, NY 11211
Subway
L train to Graham Avenue
Hours
Sun – Thu, 5 pm – 11 pm
Fri – Sat, 5 pm – 12 am
Lunch / Brunch
Wed – Fri, 12 pm – 5 pm
Sat – Sun, 11 am – 5 pm
Phone
(718) 782 8171
E-mail